Well, no more boo hooing for me. Tee hee! The Mate knew I was bummed about my nails, and that I was drooling over the Model's Own polishes... and he told me to go ahead and get a few!! So, I went ahead and did it! I'm so so very excited to get my first polishes from them! I ordered Blue Sparkle, Disco Mix, Lemon Sherbet, Peacock Green, Mixed Up, Green Flash, and Lemon Meringue. Ohhh happy day! And that's on top of getting to order TWO of the MAC polishes!
Speaking of spoiled, I've always said I'd love to live life as one of our cats. Now they are a spoiled bunch of critters. And it's all worth it, especially since so many of them have had such a rough start in life. They are all doing pretty well, although I suspect Salem is having trouble with his teeth, so a vet visit is in order there. And Jet isn't quite as perky as he should be, and has a little lump on his head, so that will be seen soon. Missy broke a nail off short, but it's coming back quickly, and she's not limping, so I don't think she'll need to go in. On the topic of kitties, after the jump, there is a picture of Tess for your viewing pleasure, and much more randomness.
We keep books up on our headboard so they are easy to get to, and apparently Tess has decided that's the most comfortable spot in the room. This is what I looked back to see earlier while I was doing my nails.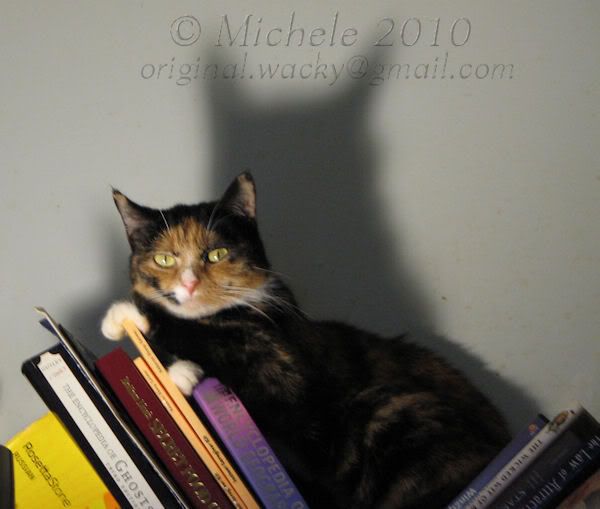 On the topic of nails, I got my sampler pack from
Viva La Nails
and have started playing with it. WHY OH WHY have I never tried water decals before? I absolutely
LOVE
them! Here's a picture of everything that came in the package.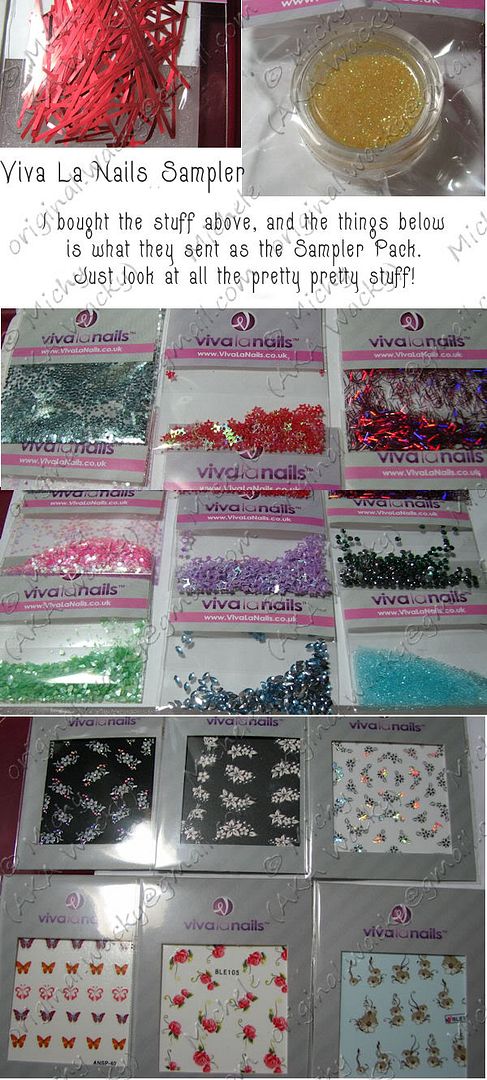 I will be playing with more of that package in the next week or two, that's for sure. I'm thinking I need to work on sorting out my pictures, as I have several thousand of nail polish tucked away in different folders. Even the not as nice swatches might come in handy for somebody, so maybe I can work on getting those in order so that I can post some of them. The biggest problem will be that in some cases I didn't keep good track of what they were, so that kinda makes it a mess. But I guess I need a good excuse to swatch a lot more, right?
I'd also like to work on getting updated pictures of all the critters, not that they've changed much, but because I enjoy looking for differences as they age. Heh. I can hardly wait until we manage to get the floor finished, and I can play laser pointer with the kitties up and down the hall again. That is truly a blast. Hopefully I can get some video of that and share it. And, I've got a few ideas for interesting posts about polish that I am trying to work on. Hopefully I'll get those figured out and posted before long. I gained another follower today, which was happy-making.
Well, now that it's after 4am, I suppose I should make some sort of effort to pretend I'm getting some sleep, and rest up so that I can take care of my critters and house tomorro... later today. Even the dogs are finally settling in to sleep, so maybe they will be quiet tonight and let me rest better. Or if not, we'll have a rousing game of "Pull the Covers Off Mommy" and I'll have some gigglefits over that. G'night!