Yes, I'm posting about my lovely package from
Viva La Nails
now. I ordered their
Sample Pack
(It's out of stock right now, but they'll get it back in soon, I'm sure), and a couple other items from their clearance. I am comfortable saying that I am impressed, and I adore the water decals. When I've got some money to spare, I will definitely be ordering more of those.
Here's what I got. (You can click all the pictures to see them larger.)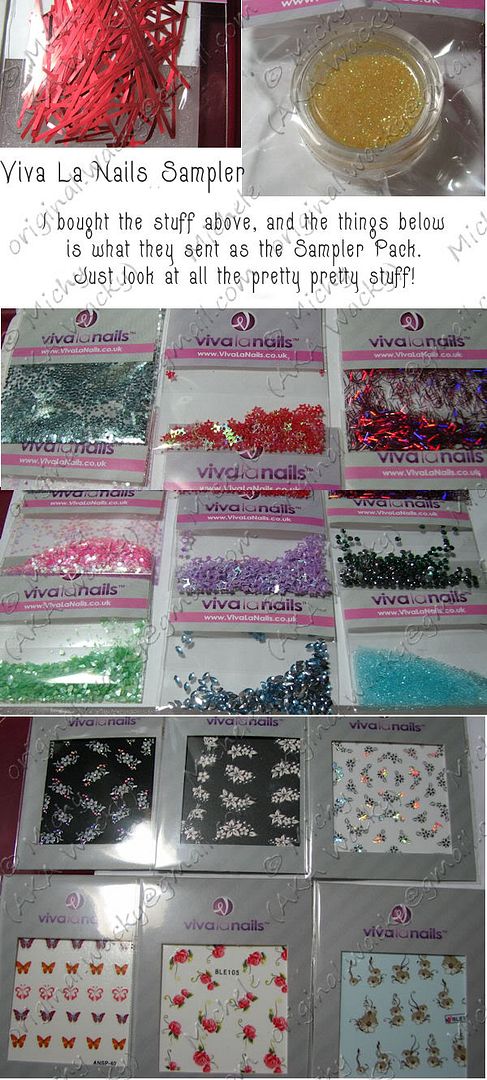 Now, I've only used a few things so far, and I'll be using more as inspiration strikes, but here are some pictures of what I have used. First up, some water decals. These are so easy to use it's not even funny. Plus, they lay very flat against the nail, so they look a lot like they were hand painted. I think I'd like to order every water decal set they have, just because they are gorgeous, easy to use, and make me all happy.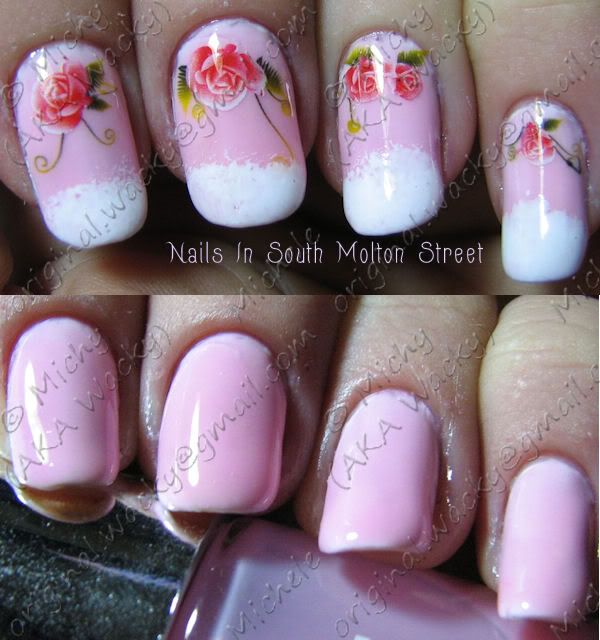 These rose water decals and sponging made a mani that I really loved.
Next I played around a bit. On my right hand, I did a ruffian mani, which I rather liked. I went with that because I broke a couple nails, and these are just too short for lots of fun art. But the left, it was really nice, using decals. Now, these don't lay flat the way the water decals do, but they do fit to the curve of the nail pretty well, which makes them better than some of the junky decals you get from other places. And of course they are way better than stickers that aren't truly meant to be for nail art (that I still use, because it's fun to experiment).
Here I tried a couple different things, and I like the decals the best.
This time I chose the water decals again, going with a nice brown base to hopefully show off the flowers nicely. As I said before, they lay very flat on the nail and look almost like they were airbrushed on. Not *quite* totally airbrushed, but without looking closely, one might not be able to tell. I got several compliments on this mani, which is always a happy thing for me.
Another set of water decals, which I think looked awesome on this mani.
Somehow I managed to lose the other pictures of this mani, which used these decals. As you can probably see from the close-up, they do lay nicely on the nail, and a layer of top coat really makes them blend into the nail so that they look like art. The rhinestone parts don't stick up too far, which I like.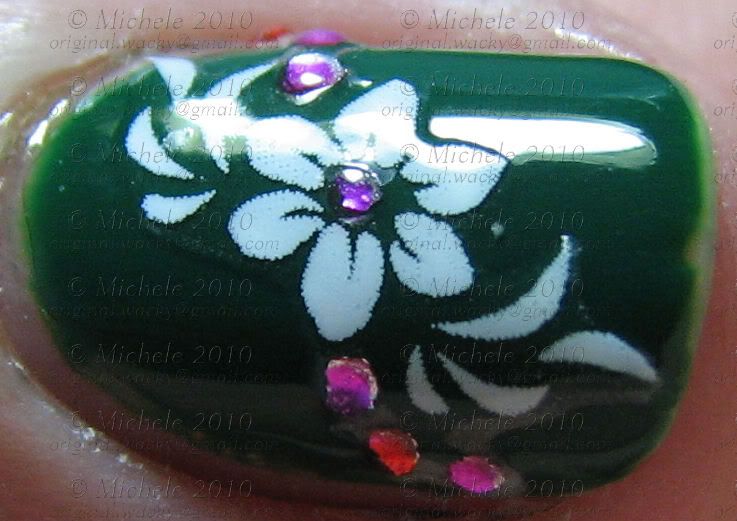 A close-up of one of the decals on green, and I super adore this one.
So, there's a few pictures for you to see what I had to work with. There were others things I used, but I failed at taking good pictures, though the products were fine. The water decals are so very easy to use, and look so nice because they sit really flat on the nail. The glitter is fun, the bigger pieces can be placed where you want, and the smaller ones can be sprinkled on the nail. All in all, my experience with VLN was a very good one, and I'll be ordering from them again when I can.
While I'm here... how about a sneak peek at what else you can expect to see soonish on my blog?
Looks fun, right? I'd better get to work so I can show them off.