I just don't do resolutions, so I haven't been all that introspective the last several days, the way so many others are. Not that it's a bad thing to be so, just that I've been busy.
Grayson is struggling so hard right now, and there have been a series of sad events for a few of the staunch supporters on top of that. It really makes me sad that there isn't more I can do to help. Last time I blasted out emails and pleas to about 60 rescues... and got all of TWO responses, both letting me know they are full as well. I know that other rescues are also struggling, but if I could find several places that could take just ONE adoptable cat it would ease things up immensely. I really cannot take in another one, having 14 cats and 4 dogs is already stretching it here. And I can almost guarantee that if I justify one, I could justify two, then three more... and that would lead to a real hoarding situation.
We have cardinals and blue jays in the back yard. I hope they start eating the food we put out and stick around. I love seeing the colors. When we first moved here, there weren't that many birds hangin about, but now we see more and more. I think I might add some more feeders, maybe even a couple hummingbird ones. That would be so neat.
I think I might move this blog to my site. It would be nice to really utilize that.
The Mate got spontaneous, called a local hotel, and reserved us a jacuzzi suite for New Year's Eve and another night. Apparently we were lucky, as he called at around suppertime on New Year's Eve, and there was ONE left. Then we headed over there and when we checked in, the lovely clerk gave us a huge discount, so we paid just under half price. More about that later. But check out the tub!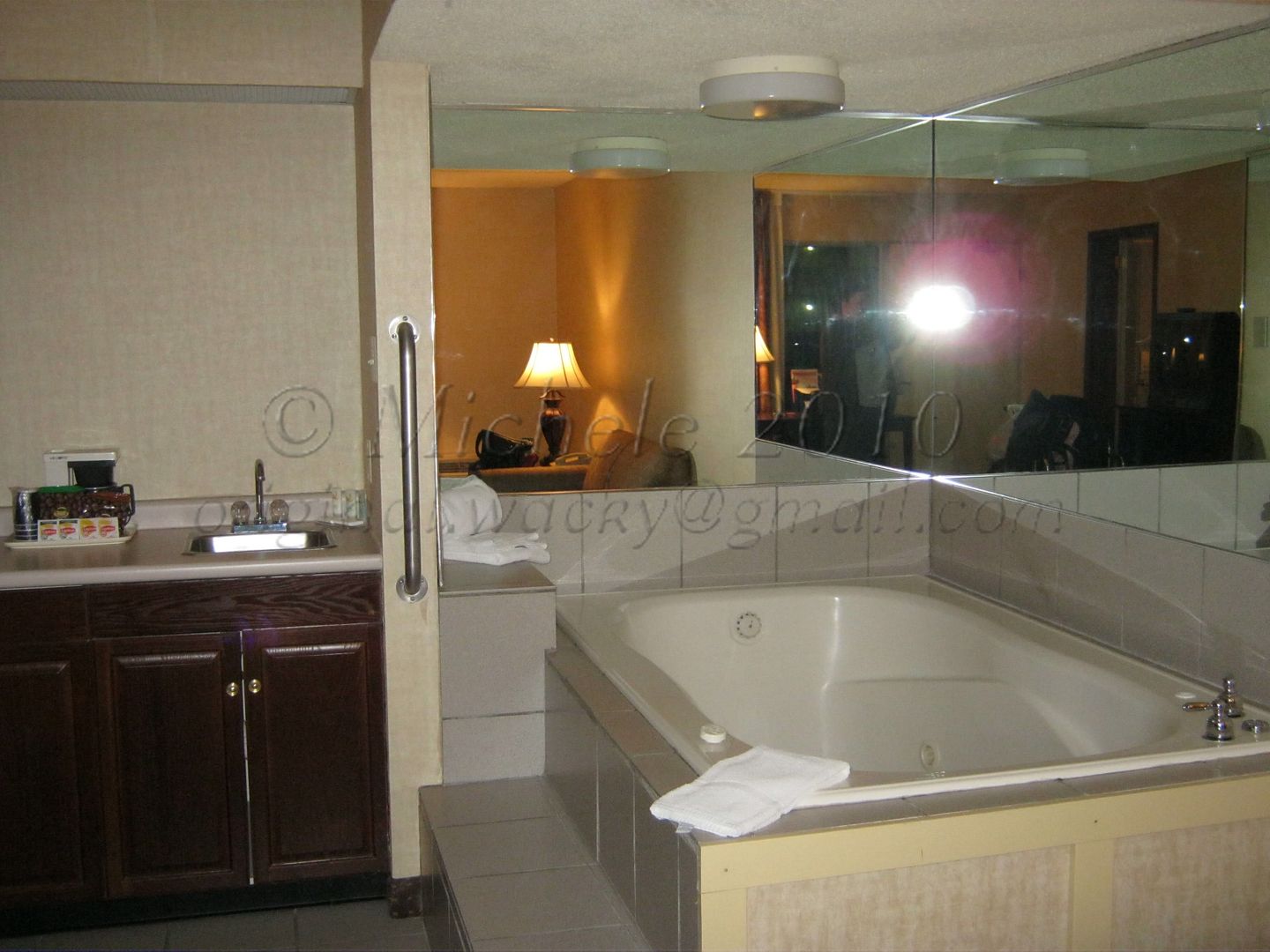 Missy is headed to the vet, and likely to be put on medication. I hope we can get her 'fixed' so that we don't have the violent outbursts. I hate to use the word violent, but, well, it kinda is. She's obviously stressed out, and can't deal well with things like the mailman going by without going into barking fits. Now there are issues with the other dogs, and it's stressing everybody out. We've had to move to crating and rotating with Lassie and Missy, and Jupiter has started being kind of a shit to the other dogs too.
Speaking of Jupiter, The Mate has started working with him a lot, and he's picking up on things quite well. I am thinking he is going to do quite well as a helper/service dog. He knows what I work with him on, and now he's learning those things and more with The Mate. He's smart enough to learn two ways to do things, so I leave them to it and stay out of it. Right now they are working on basics, and it's going quite well. Jupiter comes to The Mate pretty quickly when called, will Sit and Stay for him (even when I've got treats and am working with the other dogs!), and practices Leave It at most every meal. Yes, The Mate feeds him bits from his plate when we eat away from the table. If we eat at the dining room table, he doesn't get anything, and has learned to lay quietly next to The Mate.
If I had a jacuzzi tub at home, I'd probably be in it for several hours every day. Maybe it's a good thing I don't have one. Then again, maybe if I had it available all the time, I might not feel like I really need to spend so much time in there, because it isn't 'going away' any time soon.
One of the groups of transporters I work with a lot sent out a lovely thank you/holiday card. The total number of dogs our little group has moved to safety? 604. Plus, a few cats. Almost every one of those would have died without moving somewhere else to be adopted. I'm so very happy to have had a small part in helping them. Also, a cute magnetic sticker was sent out, so I added it to the ones I have on the Jeep. It's the round one.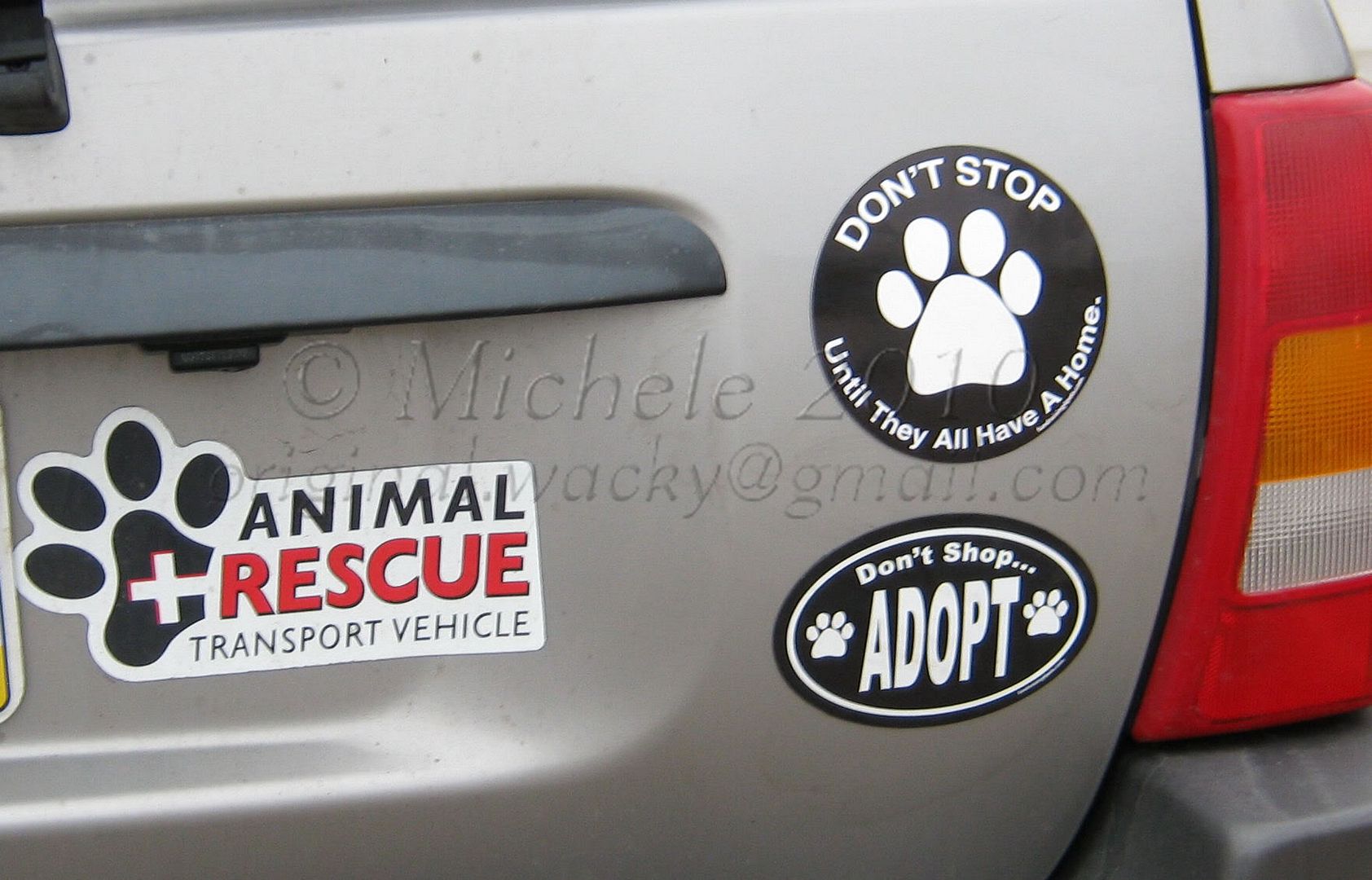 I'm still not completely sure where I'm going to take this blog, and how I'm going to do it. I love things like Random Tuesday Thoughts, and would like to find a couple more 'features' that I do on a regular basis. Maybe a weekly fun blog roundup would be nice. I'd like to start doing theme weeks with nail polish, by brand or color, which would also proably include holiday themes when they come around. Of course I'll keep doing my rescue transports and getting pictures of those. I've been thinking about this stuff on and off for well over a month, but so much is going on right now, I just can't seem to decide.
The Mate has three appointments this week, the big one being the one with the surgeon. I'm reasonably certain that we'll be scheduling yet another surgery on his spine; this would be the second one on his neck. I just hope it helps, it's hard on him not being able to do so many things.
I'm getting better at water marbling on my nails, and I enjoy it. Between that, Konad, and water decals, I could have art on my nails every day if I wanted. This makes me very happy.
I really like Ritz crackers with pineapple.
I think my motivation disappeared. If I could find it, I'd be in much better shape.
I can't decide just how much personal stuff I want to say on this blog. I can keep it almost all about nail polish and rescue critters, or let it all hang out and post pretty much everything. I don't think I'll have the courage to be that honest in 'public'. I guess I'll just have to wing it. I do want to try to make more comments on other blogs, because there are so many posts I read that touch me in some way.
Someday I really hope to bring a parrot into the house. I'll have to wait until we aren't so crowded though. And I'll have to make sure that I have a place for it to go if it outlives us. I just really miss having birds.
I love the saying, "He's got enough mouth for 5 sets of teeth."