So, even though it's technically not Wednesday right now, I'm totally gonna post this anyway. Hee.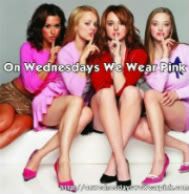 I'm just getting back into the swing of things, but I should be able to post at least a couple times a week from here on out, if not more. And in good news, I have a much better camera again, so I can really do better pics! It's The Mate's Nikon, or I can use our new Fuji camera. Either one should be better than using our video camera for stills, and better than my phone, which does take decent pictures, but just isn't the same. Now if I can get my Canon fixed, I'd be even happier. LOL How is it that I kill cameras so well?
Anyhow, this is Sally Hansen Xtreme Wear Very Cherry, which sounds like it should be RED, but really is more pink to my eye. Heck, even if it's not really really PEEEENK, I'm gonna say it is. And this is my blog, so I can do that. Muahahaha!
At one coat, it really does look pink, so you can see what I mean. I do like the color quite a bit.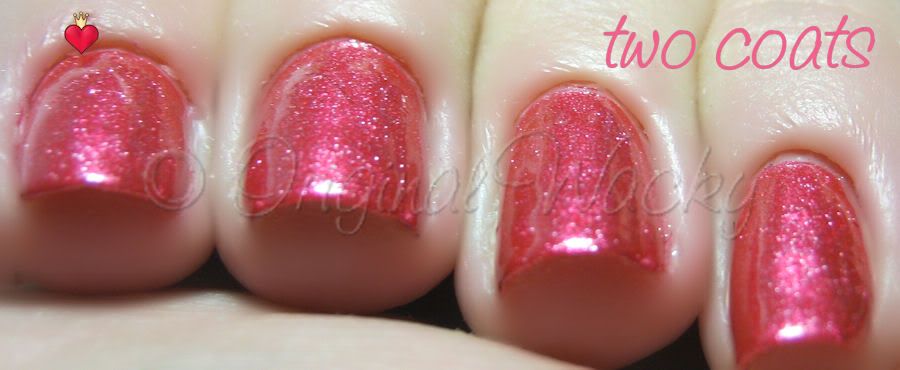 Two coats gives pretty good coverage (do you like the little heartsy cover-up of my darn cuticles?), and still looks pretty pink to me.

I pretty much love the shiny sparkle of this polish. With flash you can see the more red side of this one.
I wish I'd done better clean-up on this, but it was one of those kind of nights. It happens.

As you can see, I wound up going with three coats in the end, but I think two would have been enough.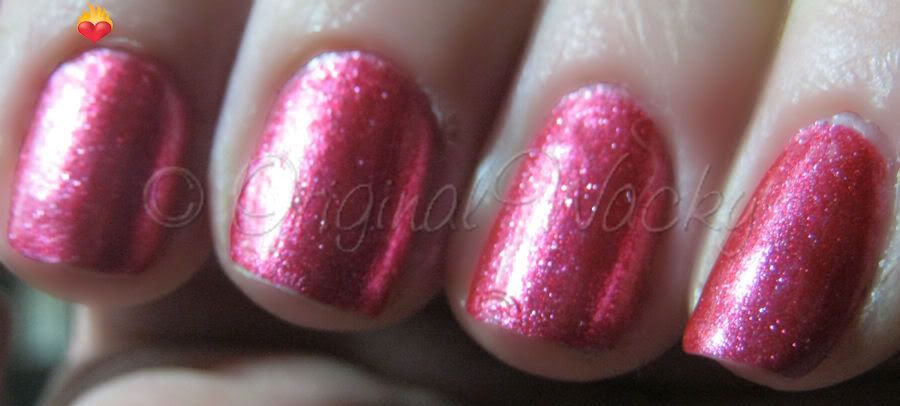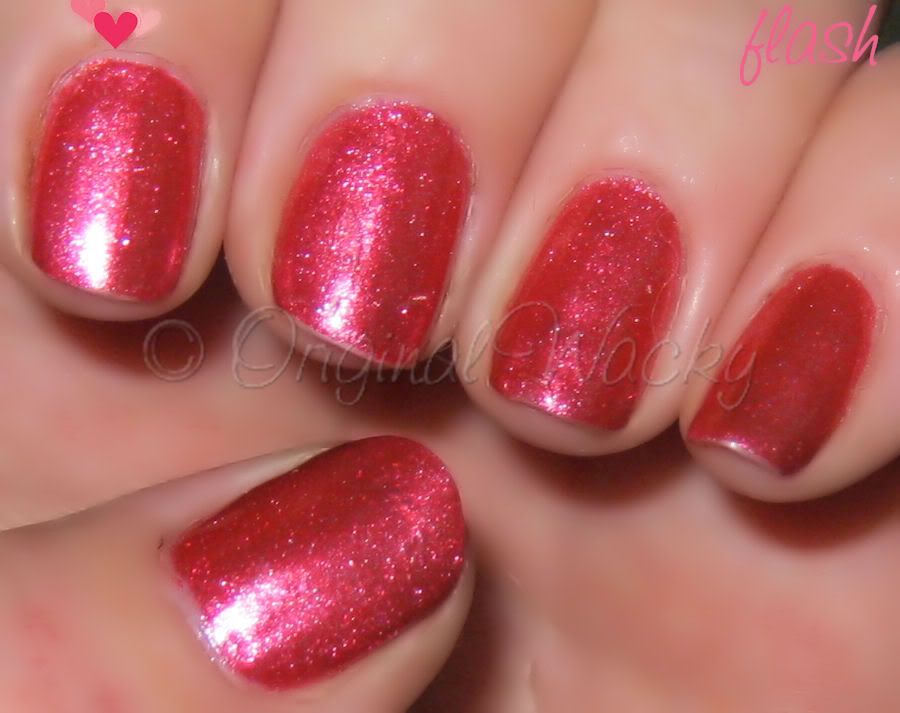 And today you get a bonus, because I'm going to share a water marble. It's got pink in it!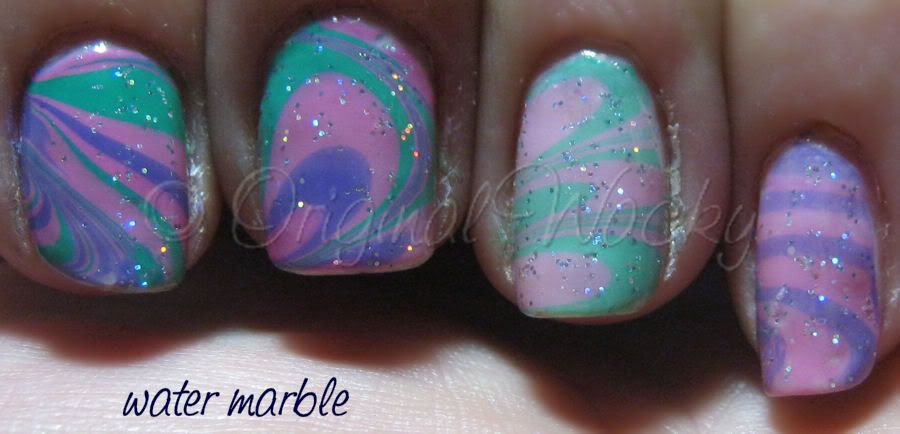 This was one I did while camping, by lamplight late at night.
It was so very peaceful, the fire dying down to flickering embers, almost no noise at all, Krissie laying next to me - I could live like that forever.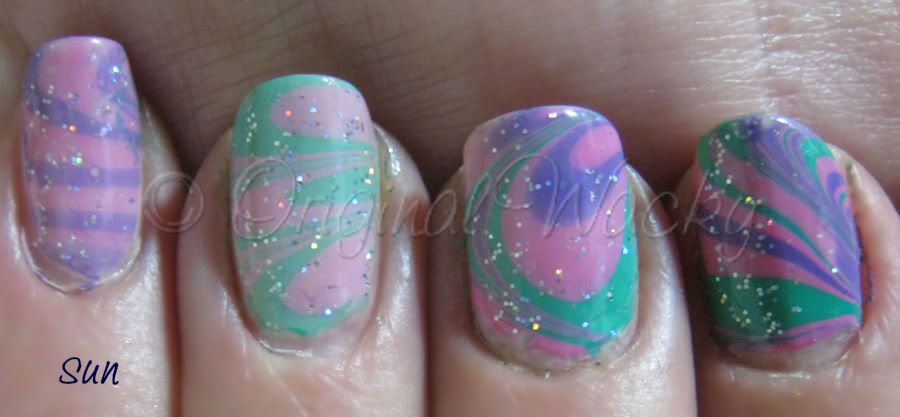 This one might have been better without the glitter, but either way, I really enjoyed how it turned out.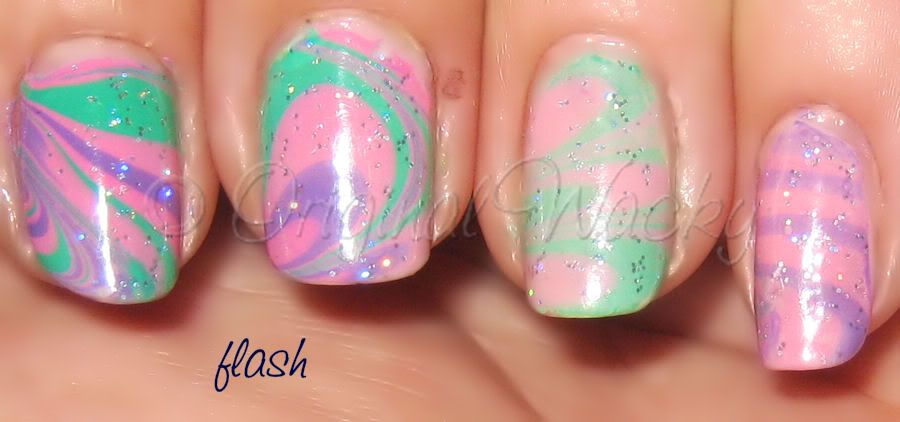 Okay, that's the pink for Wednesday, even if it's really Thursday already. But since I haven't been to bed, it's still Wednesday to me! Hee. Now I'd better feed these critters before they start gnawing on me, and see about getting some sleep so I can stay on track. G'night!