We're all the way at the end now... these are the most recent additions to our household.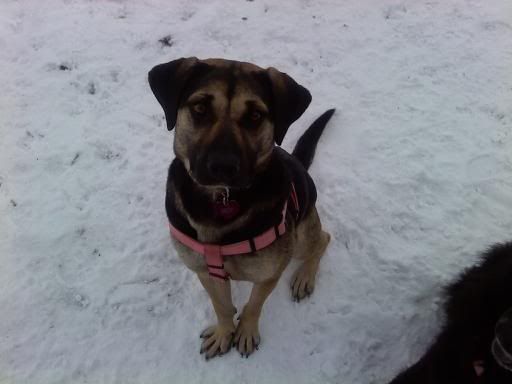 Missy is the dog we fell for in Ohio when we stopped over to look for a German Shepherd. At least she is a mix with one, or looks like it anyway. When we introduced her to our dogs, we got a good reaction, so she came home with us. She is truly a love sponge, more than any of the other dogs. It took a few days for her to realize that she could get attention pretty much any time, and she took advantage of it a LOT, and still does. She's learning how the house works as well, and has a nice deep bark that some would consider frightening. She's not really aggressive, though I do think she would be protective. She will go through obedience with Krissie, for the experience of it. She's much less jumpy than when we first got her, but still starts at loud noises.
Krissie came to us from Kentucky. See, in my transports, I've met a great group of people involved in working with
Grayson County Humane Society
. So when we were looking for a German Shepherd, I let them know. Well, these mixed pups came in, and looked like they might be shepherd mixes, and I fell in love, so we applied, and were approved to adopt both of the pups. Unfortunately, one had a broken leg, and was unable to come right away, so we got Krissie. We would have been glad to wait for her sister, but a rescue stepped up, and we thought it would be best if she got out of there sooner rather than later, so we didn't have any problem with her going. We like to tease Krissie about how she is our big guard dog, especially when she barks at the kitties. She's also too darn smart for her own good. She'll be going through an obedience class fairly soon, as we want to challenge her and use her brain.
Well, there you have it, all of our pets. I just realized, our dogs come from four different states. Does that mean the next one I adopt needs to come from a fifth? *snicker*