I am not really a foot person. I mean, I don't have them or get grossed out by them, they are just feet. To me they aren't any more interesting than, say, elbows. Except for being able to put polish on them. Because putting polish on your elbows would just make a mess. Also, it would be very hard to photograph. Kind of like putting your elbow in your ear, which is pretty much impossible, at least for me. Wow, I'm getting off track.
Anyway, I only do my toes every few weeks, but I do tend to take pictures of them, just because. I'm still not as good at doing pedicures as I am manicures, I guess because I practice on my hands so much. Someday I'd love to get a professional pedicure, just to see what it's like. I'm sort of scared to though, because I worry that my psoriasis will be an issue. Too many people don't understand what psoriasis is, and are very grossed out by my skin. But that's a whole different post, so let's look at polish. On feet. My feet.
I tend to do my toes in pinks and reds the most, with the occasional blue, orange, or purple. I've done black and white as well, but it's been a long while, and I don't have pictures. Anyway, these are in no particular order. First up, Nicole I Stop For Nicole, a lovely red shimmer.
Next is SH Couture Red Frost, another great red shimmer.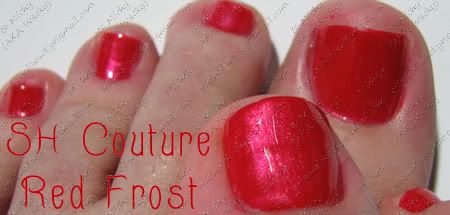 Neons always seem to look good on my toes, and Milani Pink Rocks is no different.

Here we have Nubar's Geisha Blaze, a great shiny pink.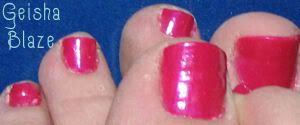 Ooh, adding my shiny top coat to Milani Techno Red makes for a lovely bright pedi.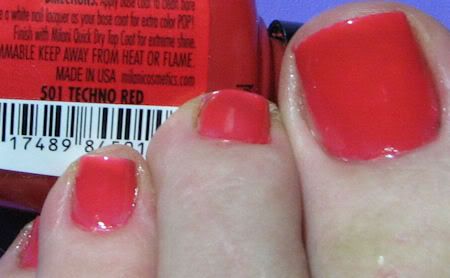 Maybelline Candy Coated is a lovely pink that I wore until it started to chip.
Mattes are something I've just started using on my toes. This one looked pretty darn nice.

Aaah, Pure Ice Super Star, a great burgundy red shimmer.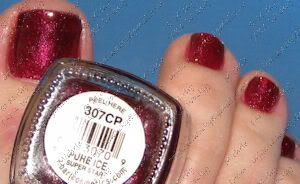 Glitter adds to any polish, and this was no exception. This one is an unnamed Icing glitter.

Now this is a pink that I could wear on my toes forever.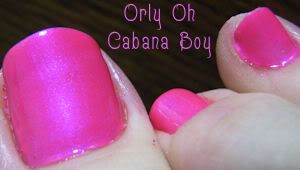 Then we have a no name polish that was a lovely coral.
Flakies over red look nice. This is Nubar 2010 over WNW Cherry Pop.
My current pedi is blue, and I think I'll add some nice polka dots to it for the weekend.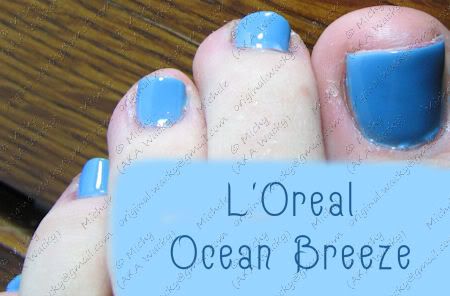 And that's it for now. I'm going to go play with/train the dogs for a while, and then hopefully I'll have time to put up some swatches.