Today I'm going to post a review of the three polishes that I won over at
You've Got Nail
from
piCture pOlish
. I posted a
quick bottle picture
of them earlier, and today I'm going to show you the manicures I used them in. Hop on in and take a peek.
First, I wore Flirt.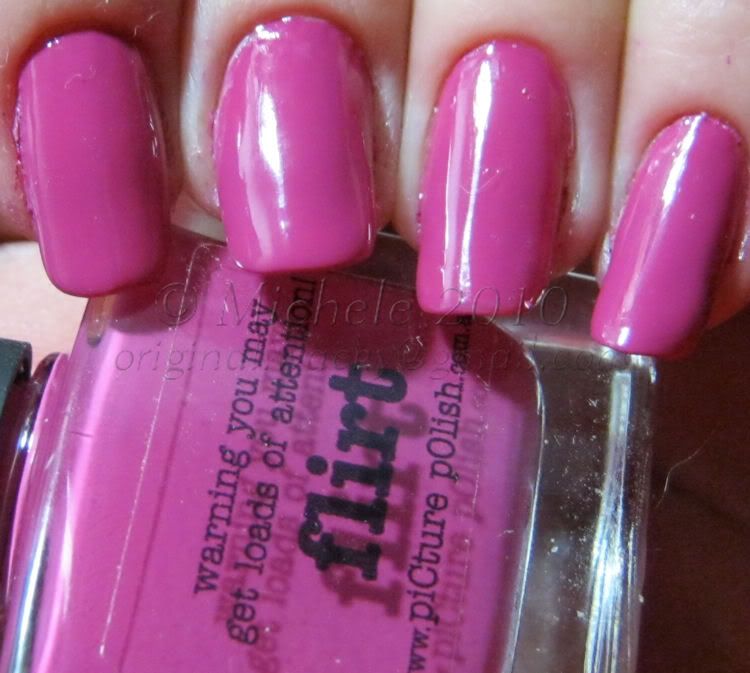 The first thing I have to say about this polish is that I used ONE COAT to get this picture. For me, that is virtually unheard of, because even when polishes are opaque, I generally have to do two coats just to level it out. But not with this one. This, hands-down, is THE best polish formula I've ever had the honor of putting on my fingers. Now, I'm not saying this because I won the polishes, it would take a LOT more than that to make me gush like this. But I was seriously stunned at the quality of this polish, and wore it for three days. Those who know me will know that it's an extremely rare occasion that I'll leave polish on for more than a day, let alone three. And that's even more amazing when you realize how often I claim to totally not be a pink kinda girl. Don't get me wrong, I like pink, it's just not my go-to color for my nails, nor is it my favorite. But this particular pink polish left me stunned due to the quality.
Next, I chose Honey Dew.
This time, I did need two coats for good coverage, but the quality of the polish is still excellent. It flows on smoothly, without bubbles, and goes exactly where you want it. This is a great minty color, and one that I think will really look great in the summer. These polishes shine really nicely even before top coat, but of course I use one to protect the mani. I left this on for two days, and had next to no tipwear, which is also pretty unusual. I'm really tough on my nails, what with all the dogs and cats to take care of. Normally, I don't really care if a polish has tipwear, since I like to change pretty much every day, but I figured I'd better note that this one didn't show any, because not everybody is obsessed with polish like I am.
And last I went with Bombshell.
This is a beautiful blue that glows from within. Yes, I have a lot of blues like this, but I'll have to admit that very few of them go on as well as this one did. Again, I used two coats on this mani, more because I suck sometimes than because it truly needed them both. As with the others, this flowed on beautifully and pretty much amazed me with the quality. In addition to being wonderful, these polishes also clean up very well, and I didn't find my nails stained blue when I finally took it off. Yep, this was two days as well.
So, final thoughts: Well, first of all, they are a bit spendier than many other polishes. But, here's something to think about... if you only need to put on one, maybe two coats, compared to two, three, or even more with other polishes, then these give you more bang for your buck, so to speak. I definitely find them worth spending money on, and plan to set aside some funds to get a few more of them before too long. Heck, I'd blow off some bills and get them now if I could, but those utility companies expect me to pay every darned month. Isn't that silly? Anyway, this is quickly moving into the top spots for best polishes, right up there with OPI and China Glaze.
I'm still editing pictures from our dinner and some China Glaze swatches, and hope to get those posted soon. Plus, I have a few pictures of the dogs playing in our half snow-covered yard that I'd like to share. Hopefully I'll be back to post those within a day or two. I've also got to package up and mail off the prizes from the giveaway! I didn't manage to get out of the house at all today as I'd planned. Between hurting my knee and the weather, I've been moving awfully slow. I don't mind though, we've been enjoying our time together with no appointments and no worries. There will likely be a surgery after the New Year, but that's then, and this is now. We're just going to enjoy our now, and let the rest take care of itself.