This is a nice writing prompt that I thought I'd try out. The idea is
from SarahBee at MyOwnBeeswax
. The premise is to finish the following thought: "Why I...". So it didn't take me long to think about a few things I could finish it with, and that leads us to the following post. But to make it fun, I'll include some polishes I haven't shown you yet. Let's jump right on in!
Why I ... love doing my nails.
CoverGirl Bronze Matte
It all started something like three years ago. I just bought myself a bright yellow nail polish, and found that I really liked how my nails looked.
Of course, that one polish led to another, and another. Suddenly I was noticing nail polish a lot more. And that included finding people online who were into it as well.
I can't wear much for makeup because of my skin. So nail polish is one way I can really add a pop of color to ME. Without having to buy an entire new wardrobe, which is convenient, since I'm also limited in what clothes I can wear.
I have found that doing my nails relaxes me quite a bit, and also lets me be as creative as I want. Nobody can tell me I'm doing it wrong, because I get to make it look however *I* want it to.
So, it's come down to being not only a way that I can be 'beautiful', but also a way to express the artistic side of myself, if only on a small canvas.
And yes, I would say I'm addicted to it. But as things go, it's a pretty harmless little obsession, and it makes me happy. I suppose we can't ask for much more than that.
Okay, so I did the prompt, but I still have a couple of polishes left to show you.
Bonita Tangerine
I liked this orange quite a bit, maybe because it's got that 'rusty' quality to it.
It's a very nice shimmer.
It's a very warm polish.
What do you think of it?
It is a great Halloween color, so I'm going to keep it in mind for that this year. Unless I want it before then. Hee.
I thought I'd add some fun to it with a glow in the dark polish. Of course, I didn't take any dark pictures. Oops.
with Glow in Dark Pumpkin
It really does glow in the dark though. Those pumpkins are fun!
And the last thing I'm going to show you is a yummy blue sammich manicure.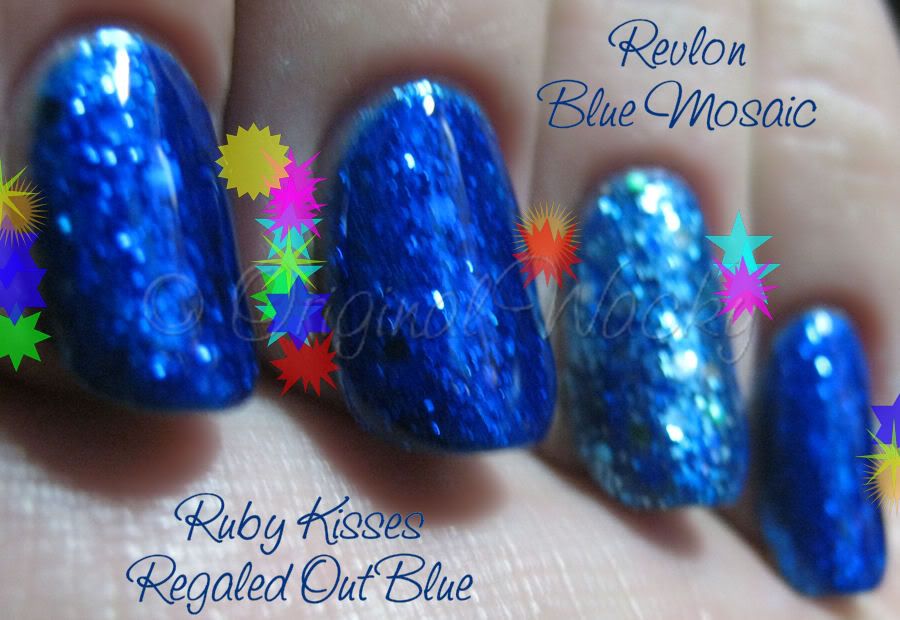 Ring finger has a coat of the Revlon on top.
Regaled Out Blue is a lovely dark blue jelly polish.
And Mosaic is a great blue glitter polish.
Together they look amazing.
I love being able to see all the pieces of glitter floating about in there.
You may know by now that I am a HUGE glitter fan. So this makes me happy in the pants.
I'd explain why I like glitter, but really? I can't. I just LOVE it.
Okay, so now I'm going to crawl into bed, and probably read until I can't see anymore, then fall asleep dreaming about nail polish. Hee. What can I say, I'm obsessed.