Ahh yes, the "star" of the collection, for those of us who claim we don't care for neutral colors. I'm not sure I can claim that any more, since I've found several recently that I kinda like, a lot more than I would have expected. Especially all four in this collection. So, I thought I'd be a little different, and I laid down some color as a base for this mani. Instead of just one color, I did some kinda random splotches, in hopes that it would look like seaweed what with this wonderful color over it. You'll have to tell me if I accomplished that. Ok? Let's take a look!
On my accent (ring finger) I just did Toxic Seaweed alone, so maybe you can tell the difference.

It's such a gorgeous color!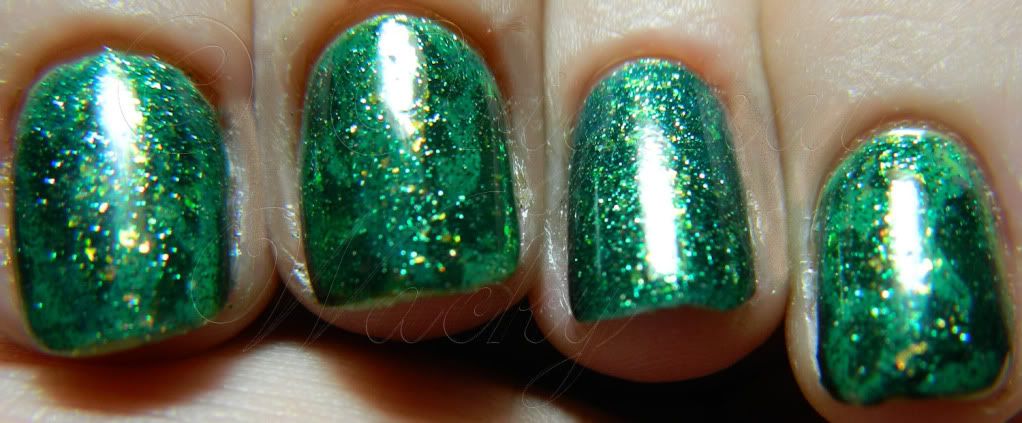 I think the patchy color as the base gives the effect of seaweed in the water. I might just be biased though.

What do you think?
I apologize for the horrid state of my cuticles. That darned psoriasis is flaring up again, and they look rough. I didn't mess with the polish colors though, just did some hiding and blurring on the cuticles to try and hide them.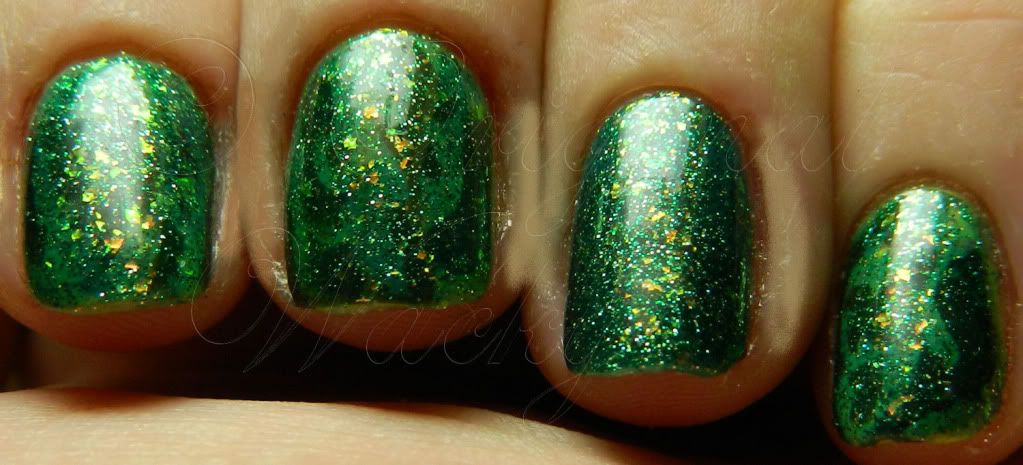 This also kinda looks like mossy rocks in a mountain creek to me. I don't think I thought about that until I was editing the pictures.
The glittery part makes me think of the sun shining on the water. The flakes aren't as obvious, but they are there.

I think this picture in very low light is one of my favorites of all. It looks so deep and mysterious! I love when a polish looks as good or better in low light as it does in bright light.

Let's see how it looks when you blue the shot a bit.
So, what do you think of this one? I absolutely adore it, much like all of the Cult Nails polishes I've got. Matter of fact, I own every polish Maria has put out so far, and I WILL own all of them from here on out. Hands down, her polish is THE BEST I've ever tried. If I could afford to buy 4-5 of each polish, I totally would, whether to keep for myself or share with others, because it's just that awesome. And as I've said before, I don't get paid to say this, I buy all her polishes with my own money (as opposed to the dogs' money? Hahaha), but I believe in it that much.
Anyhow, that is the Let's Get Nekkid Collection from Cult Nails. Coming up in the next week or two I've got another favorite brand (some Picture Polish!), some swatches of Maybelline polishes, and other assorted fun (like greens for St. Patrick's Day!). I hope you'll stop back to take a peek.