It's Wednesday again, and you know what that means!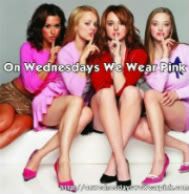 I'm sharing a pink polish with you, along with a whole bunch of other bloggers. In case you're new, this idea was started by the lovely founders,
Colour Coated
,
Glitta Gloves
, and
Life And Polish
. Not only should you check out their blogs (because they are fantastic), but click on that graphic up there and go see tons and tons of lovely pink polishes from all the other folks who have hopped on this bandwagon.
Today I have Essie Off The Shoulder to share with you. As you can see, in dim light, it's pretty bright, toeing the line of being neon.
This one is pre-clean-up, but shows you just how bright it looks in the flash.
This pretty much near neon is my kind of pink, covering easily and flowing on nicely.
Though I still kinda claim I'm not a huge pink person, I really like it.
This is one of my favorite colors for my toes.

In sunlight, it's gorgeous too.
Essie has been coming up with more and more great colors, and now that they are available in retail stores, I stand a better chance of getting them. I found this one on clearance in SD for $2!!